Contact Us
NEHRP Office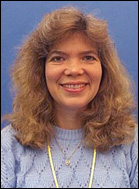 Faecke joined NIST in July 1974 as a Clerk-Stenographer assigned to NIST Personnel. She was selected for a permanent position in the Office of ADP Standards Management, Institute for Computer Sciences and Technology (ICST), in November 1974, and was promoted to an Administrative Aid position within the same office in December 1976. During her career in ICST, she served as a Secretary (Stenography) for a Division Chief, the Center Director, and the Laboratory Deputy Director. In September 1988, Faecke was promoted to an Administrative Officer position. She was given full responsibility for the laboratory headquarters budget and human resource execution and operation. She was also responsible for coordinating and overseeing the November 1995 physical relocation of approximately 520 employees and property to NIST North when the NIST Computer Systems Laboratory and NIST Computing and Applied Mathematics Laboratory merged to become the NIST Information Technology Laboratory.
In March 1996, Faecke was selected for an Administrative Officer position supporting the Building Environment and Building Materials Divisions, NIST Building and Fire Research Laboratory (BFRL). She managed an annual operating budget for the two divisions totaling approximately $12 million and staff of about 52 federal employees and 35 guest researchers from industry, universities, and foreign entities.
In early 2006, Faecke was named to serve as the Administrative Officer for the National Earthquake Hazards Reduction Program (NEHRP) Secretariat. In that position, she served as the division liaison for all administrative, human resource, and budgetary operations and represented BFRL on several NIST Committees.
Faecke was reassigned to serve as the NEHRP Management and Program Analyst in May 2012. In October 2015, she accepted additional responsibilities as the Management and Program Analyst for the National Windstorm Impact Reduction Program (NWIRP) until April 2017. In her current position, Faecke:
manages daily implementation and execution of administrative and statutory reporting requirements;
serves as Designated Federal Officer for the statutory federal advisory committees;
serves as backup for the NIST Committee Liaison Management Officer;
provides programmatic and statutory committee support;
prepares meeting agendas, attends, participates in, and reviews draft summaries for executive-level interagency meetings;
manages the NEHRP website; and
serves as an information resource and advisor to the statutory Program Directors and statutory Program agency representatives.
Recognition:
NIST Director's Award for Excellence in Administration (December 2015) for outstanding administrative leadership for NEHRP and the National Construction Safety Team Program.
Engineering Laboratory Support Award (October 2011) for providing outstanding administrative support to NEHRP, the Disaster and Failure Studies Program, and NWIRP.
Certificate of Recognition (December 2003) for outstanding performance involving successful implementation of the Core Financial System of the Commerce Administrative Management System for NIST, NTIA, and TA.
Education:
Frederick Community College, Frederick, MD
Secretarial Science Degree, 1974

Top of Page
Send general inquiries and all feedback to nehrp@nist.gov