Contact Us
NSF Agency Representative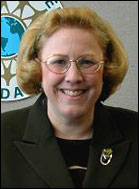 Joy M. Pauschke
Program Director
Engineering for Natural Hazards and Natural Hazards Engineering Research Infrastructure
Division of Civil, Mechanical and Manufacturing Innovation
Directorate for Engineering
National Science Foundation (NSF)
4201 Wilson Boulevard
Suite 545, Room 545.07
Arlington, VA 22230
(703) 292-7024
jpauschk@nsf.gov
Joy M. Pauschke is the Program Director for the Engineering for Natural Hazards research program and the Natural Hazards Engineering Research Infrastructure (NHERI) (an NSF Major, Multi-User Facility) in the Directorate for Engineering (ENG), Division of Civil, Mechanical and Manufacturing Innovation (CMMI). Dr. Pauschke joined NSF in 1994 (IPA 1994–1996) in ENG's Division of Engineering Education and Centers and had oversight responsibility for awards in the following programs: Earthquake Engineering Research Centers, Engineering Research Centers, State/Industry/University Cooperative Research Centers, Industry/University Cooperative Research Centers, Engineering Education Coalitions, and Technology Reinvestment Project Manufacturing Education and Training. In 2000, Dr. Pauschke transferred to CMMI (at that time the former Civil and Mechanical Systems division) to serve as the Program Director for facility construction, operations, and research program for the George E. Brown, Jr. Network for Earthquake Engineering Simulation (NEES).
At NSF, Dr. Pauschke has received the Director's Awards for Meritorious Service (1999), Superior Accomplishment (2002), Distinguished Service (2010), and Excellence in Program Management (2014), and seven team awards for Collaborative Integration.
Prior to joining NSF, Dr. Pauschke held faculty positions at the University of Pennsylvania and Northern Illinois University, the latter where she was also the Associate Dean, College of Engineering and Engineering Technology, 1989–1994. She has also worked for several construction and consulting firms.
Dr. Pauschke holds a B.S. in Civil Engineering from Northwestern University and M.S., Engineer, and Ph.D. degrees in Civil Engineering from Stanford University. Her career and research focus has been in the area of structural/earthquake engineering. She is a registered Professional Engineer in the State of Illinois.
Education:
Ph.D. Civil Engineering and M.S. Engineer, Stanford University
B.S. Civil Engineering, Northwestern University

Top of Page
Send general inquiries and all feedback to nehrp@nist.gov