Contact Us
NEHRP Secretariat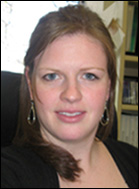 Michelle Harman is the Administrative Assistant for the NEHRP Secretariat.
Before graduating from Northland Baptist Bible College in May 2004, Harman worked for the U.S. Department of Defense Manpower Analysis Agency in Ft. Belvoir, VA. After graduation, she worked as an elementary school teacher at Arlington Baptist School in Baltimore, MD. In June 2007, Harman returned to the Federal Government as a secretary for the HVAC&R Equipment Performance Group and the Mechanical Systems and Control Group in the Building Environment Division at NIST's Building and Fire Research Laboratory.
Harman was selected for her current position with the NEHRP Secretariat in October 2009. As administrative assistant, she
prioritizes and performs various administrative tasks on behalf of the director of NEHRP, the NEHRP administrative officer, and five research engineers;
administers time and attendance for the office;
attends and records the minutes of working group meetings;
establishes and maintains administrative files;
makes travel arrangements and prepares authorizations and vouchers for domestic and international travel;
prepares and reviews correspondence;
arranges meeting and conference presentations.
Education:
B.S. Church Ministries and Bible, 2004, Northland Baptist Bible College, Dunbar, WI

Top of Page
Send general inquiries and all feedback to info@nehrp.gov